For a New Generation of Readers
Empowering kids through reading and writing at Berättarministeriet, funded in part by the Bonnier Family Foundation and Bonnierförlagen.
A Sweden where everyone feels comfortable with the written word and has a chance to actively participate in social life. That's the vision of Berättarministeriet – The Ministry of Storytelling – a non-profit, politically and religiously independent organization that aims to empower children to conquer the Swedish language and improve their grades in school. With nearly 35,000 education center visits from kids, over 2,600 from teachers and some 500 volunteers, Berättarministeriet has clearly had an impact.
Berättarministeriet focuses in particular on kids in several disadvantaged areas around Stockholm, Södertälje and Göteborg and receives public funding as well as from corporations and foundations, including from Swedish book publishing house Bonnierförlagen and the Bonnier Family Foundation. Berättarministeriet is a strong match and a vision that fits well with Bonnier's strong support of reading and core value of power of the individual.
"At Berättarministeriet, children discover how fun it is to read and write," says Dilsa Demirbag-Sten, general secretary for the organization. "The written word is necessary to be able to take part in all the magical stories that help us understand what it is to be human and the key to gaining knowledge.

"Berättarministeriet's mission is to strengthen children's chance to conquer the written word, and in that way achieve a basic foundation to be able to take an active role in society. For a democracy to be viable, the active participation of citizens is crucial."
The Word is Free Supports Berättarministeriet
The annual charity auction of Swedish book publishing house Bonnierförlagen aims to strengthen and support free speech. For 2017, comic book artists Nina Hemmingsson and Frida Malmgren donated original illustrations from the book Ordet är fritt (The word is free) as part of the auction, along with signed portraits of musical artist Veronica Maggio and her autobiography Everything's Good for Now and signed copies of the photo book Last Night in Sweden. All the proceeds from the auction went to Berättarministeriet.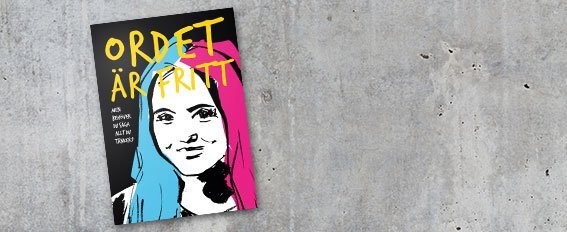 10 Tips on Turning Your Child Into a Reader
Berättarministeriet has a goal of making sure children are comfortable with reading and writing. Here is advice from Bonnier Carlsen top-selling authors Helena Bross and Magnus Ljunggren on how parents can help their kids become lifelong readers.
1. Kids do what adults do – so read yourself, it's enjoyable!
2. Establish pleasant read-aloud times when your kids are small. This helps children learn how fun and exciting the world of books is. And don't stop reading aloud just because your kids have learned to read themselves!
3. Once your kids can read: help them develop good reading habits. Reading requires concentration. Choose a quiet spot, sit with your child and help if she gets stuck. Children need lots of practice reading, just like they practice bicycling, swimming and everything else they learn to do.
4. If it proves difficult for your child to read books by himself, try taking turns reading one page each. You'll get through a book faster.
5. Trigger the urge to find out more by starting a suspenseful book. Then let your child finish the book herself.
6. Start up your own book group – of two! Read the same book separately then discuss what you've read together.
7. Read the book, see the movie! Then talk about what was the same and what was different, what you liked and didn't like.
8. Go to the library together. Ask the librarians for book ideas, they know a lot.
9.  Don't forget that you can read with your ear: Audiobooks are wonderful to listen to!
10. It's okay with bribes once in a while. It's important to keep up the reading during vacations. You can promise some kind of small reward for each book read.